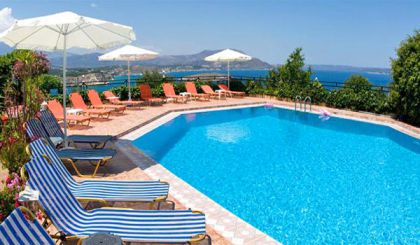 The apartments are built on top of the cliff of the Plaka village and they offer unique views to the Aegean Sea. The lovely sandy beach of Almirida lies only 1 km far.

The swimming pool in the center of the plot is a perfect place to relax under the hot summer sun while staring at the blue sea. The cafe near the entrance of the complex is ideal to have your coffee or food.
Lush gardens are dispersed in the plot and climbing plants on the apartments making it really nice to live here.
Spiros, the son of the owners of the apartments is an agronome and he has a special interest and care for the gardens.