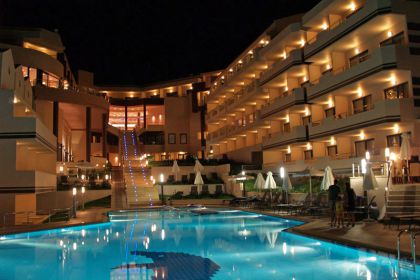 A great pool of 310 sqm, another children pool of 90 sqm, and a heated indoor pool of 50 sqm are offered.
The guests also may go for swimming in the lovely sandy beach of Galini hotel, 200 m from the Galini Sea View. There is a lift that will bring the guests to the main road level. Moreover, a minibus was bought by the Hotel and will also provide shuttle services from the Hotel to the Beach (distance 1 minute).
For Galini Sea View clients with All Inclusive the use of sun beds & umbrellas is free of charge.
In coordination with exterior collaborators, our guests may reserve at the reception at extra charge: Water Ski, Paragliding, Jet Ski, Sailing, Scuba Diving
The main restaurant where arrangement meals will be served is located on the third floor of the main building with a panoramic view of the Bay of Aghia Marina. The seating capacity is of 300 persons. Local and international dishes will be served with the buffet setting and warm dishes will be prepared on the spot with our "Show Cooking" kitchen.
A Snack - Pool Bar will operate during the day where Guests may find Juices, beverages, alcoholic drinks as well as a variety of snacks as well as local and grilled dishes.
The main bar is located nearby the reception – sitting area and also has a panoramic view of the Bay. It will mainly operate during the evenings, serving special design cocktails, long drinks, soft drinks, juices, national beer, Greek wine, national alcoholic drinks, coffee and tea.
Alcoholic Drinks in all Bars of our Hotel are national.
A Gourmet, an Italian and a Chinese a la carte restaurant are also available for guests with high standards of expectations.
In the *** Galini Beach Hotel all our guests will have the possibility to enjoy another fully equipped Greek Tavern as well as a pool bar (with charge). The services for the facilities at Galini Beach have been upgraded so that five star guests may be satisfied.
Room service will be provided to our guests with a rich meal menu from 07:30 to 24:00 (with charge).
A shopping Gallery located next to the reception area offers clothing, jewelers, press, cigarettes & cigars, souvenirs, and miscellaneous items. Moreover, a Gym area of 120 sq. m. (5 electronic fitness gear and 2 multi practice sets are provided), a Sauna and a Hamam for 8 pax each, a hair dresser (located near the hotel, therefore reservation required) are provided. The guests can also reserve at extra charge Water Ski, Paragliding, Jet Ski, Sailing and Scuba Diving. In the end, Game room with Electronic games, billiard and TV room are offered.
Especially for children indoor facilities of 60 sq.m. with a wide variety of games and activities as well as outdoor facilities of 100 sq.m., cultural activities, and tv?video corner are provided.