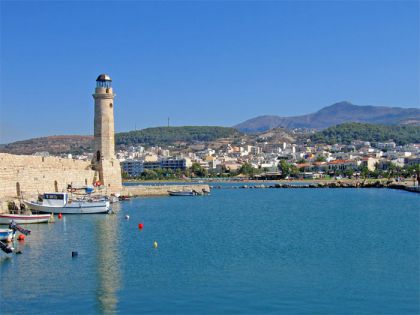 Rethymno old Town is characterized by its picturesque streets with small shops, pansions, restaurants, a few lovely small squares, and the waterfront area; there is the small Venetia harbour with the Lighthouse and many lovely tavernas built on the edge of the sea and the rest extended gulf with the long, sandy beach of Rethymnon and the rest waterfront shops, restaurants and blocks of houses.
The old Town is a mix of Venetian, Turkish and modern architecture that inspires and relaxes the visitor; it also reminds of the great history of Crete.
The Venetian Fortress with the Nerandzes mosque above the town dominates the horizon and it is an excellent place to have some panoramic snaps of the town. The Venetian Lighthouse is another great landmark of the harbour and the town (like the Lighthouse in Chania).
Moreover, in the picturesque, medieval streets of the Venetian old Town the visitor can find the Rimondi Fountain (built in 1926), the Venetian Loggia (today here are sold reproductions of Classical works of art), the Venetian Gate (Porta Guora) leading from the old Town to the modern city, and the public gardens. The colourful, renovated Venetian buildings and the public spaces create a romantic atmosphere, a mixture of Venetian, Turkish and Modern Greek architecture.