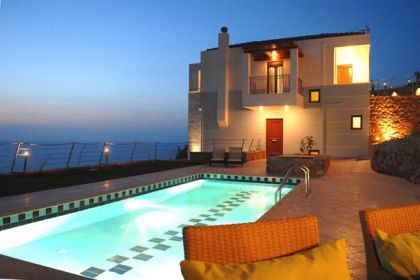 De villa's beschikken over een receptie, gebruik van een barbecue en gratis levering van groenten en fruit van de locale supermarkt. Optionele diensten omvatten een butler - die ontbijt en diner (BBQ) serveert in de villa, het weekmenu (lunch of diner) bij het taverne, autoverhuur en vervoer.
De omgeving is bruisend; er zijn zomersporten zoals waterskiën, duiken, windsurfen, motorbootjes en tennis.
Gasten kunnen genieten van de privacy van hun eigen zwembad of ervoor kiezen om op het zandstrand in de baai te liggen waar parasols, strandstoelen en handdoeken voor elke villa aangeboden worden. De villa's hebben speciale aandacht voor kinderen en bieden speciale faciliteiten voor kinderen zoals kinderstoelen, kinderbordjes en apparaten, speelgoed, badkamer en kinderbed. Gratis WIFI is in alle villa's aanwezig.
Okeanides Villas zorgt voor een warm welkom voor haar gasten met een fruitmandje met wijn en drankjes. Er is om de dag schoonmaak van de huizen en wisseling van handdoeken en bedlinnen.
Serices op aanvraag omvatten autoverhuur-regelingen, een butler serveert ontbijt en diner (barbecue) in de villa, duiklessen, tennis, watersportactiviteiten, luchthaventransfers en weekmenu (lunch of diner) bij het taverne.