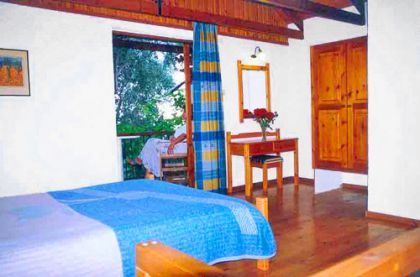 Οlive Τree Cottages offers six air-conditioned maisonettes, all in different shapes and sizes. They are combined perfectly in a marvelous colour & form around a pretty little village square, tiled with local stones. 
Every maisonette offers 1-bedroom or 2-bedrooms (all with double beds), a small comfortable living area and a dinning table in an open plan design, a well-equipped kitchenette with a small fridge and 1 or 2 bathrooms with shower.
Every maisonette provides a spacious first floor balcony and a semi-private terrace in a lovely plot full of flowers, olive trees and small palm trees. Furthermore, in every maisonette a hairdryer, a radio, a satellite television and wireless internet are also available.
Please note that the second bedroom of the 2-bedroom Apartment Nr. 6 has two bunk beds instead of a double bed.