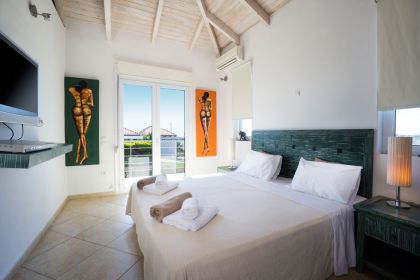 Tersanas Villa Nikos offers 4 bedrooms with en-suite bathrooms and a brand new bedroom with two single beds. All bathrooms have heat in the floor and an electric towel-drier. A double bedroom (with en-suite bathroom) and a wc are provided on the ground floor. On the same a floor spacious living room and a kitchen with a dining table are offered.
One bedroom with a double bed, one bedroom with two single beds, one bedroom with one double bed, and a new bedroom with two single beds are provided on the lower floor. A washing machine and clothes dryer are also offered.
All the rooms are equipped with air-condition and a 32 inch flatscreen TV with DVD. Tersanas Villa Nikos also shares a tennis court (international measurements) with three other villas.