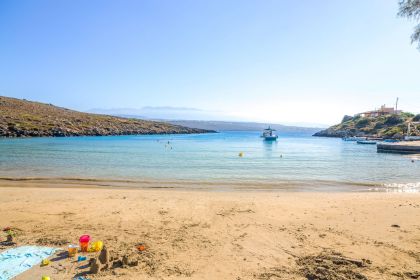 Tersanas θ una piccola baia naturale, a 13Km a Nordest della Canea, un tranquillo villaggio con una deliziosa spiaggia in una piccola baia. Θ un posto ideale per vacanze rilassanti e distensive, vicino al mare.
Nella deliziosa spiaggia di Tersanas troverete a disposizione lettini per prendere il sole e ombrelloni. Vi θ generalmente bassa marea, permettendo anche ai bimbi di nuotare. A volte, nei weekend, la spiaggia θ affollata di gente del posto, ma, persino cosμ, θ un bel posto da visitare per qualche ora.
Altre due spiagge favolose si trovano a Kalathas (3Km a Sud) e a Stavros (4Km a nord) con sabbia soffice e acque chiare.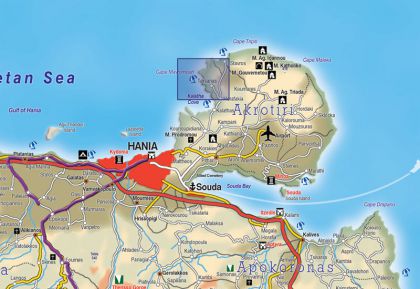 A Tersanas vi sono delle buone taverne e caffθ. Inanzitutto, , c'θ un gradevole caffθ sul bordo della spiaggia. Un'altra eccelente taverna (Sunset) con una vista meravigliosa si trova sulla cima della collina. Per lo shopping giornaliero, raccomandiamo il piccolo borgo di Chorafakia (1Km), dove vi sono negozi e taverne. A Chorofakia troverete anche una fermata d'autobus con una rete di connessioni al centro dalla Canea molto frequente (6 volte al giorno).
Durante il soggiorno a Tersanas θ d'obbligo visitare alcuni dei grandi monasteri e chiese della penisola d'Akrotiri, "La sacra montagna di Creta". I piω importanti sono il monastero di Agia Triada (Holy Trinity), Gouverneto (Signora degli Angeli) e Katholiko (Agios Ioannis l'Eremita).
Tersanas θ a 20 minuti dall'aeroporto internazionale della Canea e a mezz'ora dal porto di Souda
We would like to suggest you the next taverns and restaurants in the area of Akrotiri.
Sunset beach, a beachfront tavern on the sandy beach west of Stavros with Cretan food and French dishes served by Malika.
Sunset, a small tavern in Tersanas village with homemade Greek food by Mrs. Maria.
Almyriki, a new seafood restaurant near the centre of Stavros, in front of the sandy beach, with fish food and local dishes.
Mitsos, a small tavern in Kounoupidiana with Greek kitchen and grilled barbecue food.
Bahar, a lovely restaurant in Chorafakia with gourmet Mediterranean cuisine, pasta dishes, risotto and meat dishes.