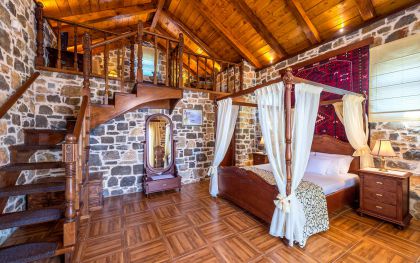 The villa is set over 3 floors. On the pool level, a living  area opens up on  to the pool area. A fully-fitted kitchen and cloakroom is offered and a feature hand carved wooden staircase leads upstairs to the bedrooms and further living areas.
On the lower floor a spacious living-room, a kitchenette area and utility room are offered. This floor has its own separate entrance. A twin bedroom and a common bathroom are also available on this floor.
On the top floor, a stunning master bedroom with a mezzanine level and high valulted ceilings, and a magnificent queen-size, four-poster bed is offered. The bedroom has an ensuite shower room with a jet shower and private balcony with views to the sea.  A further twin bedroom with ensuite shower is also offered on this floor.
All the rooms pay special attention to detail with the use of hand carved furniture and soft, intelligent lighting. An open rose theme runs throughout the villa. All rooms offer an underfloor heating and cooling system, and insect screens on the windows.