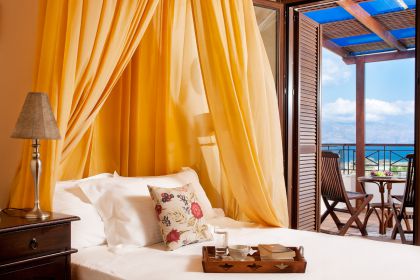 Villa Arhontariki is suitable for up to 10 guests. It consists of three spacious bedrooms with comfortable double beds on the second floor, one more double bedroom on the first floor and another double bed in the open plan sitting area on the ground floor.
Moreover, a lovely living room with fireplace, a dining area and a fully-fitted kitchen are available on the first floor, while an open plan sitting area, a hamam, a fitness and play room are offered on the ground floor.
Villa Arhontatiki offers four bathrooms in total, one with shower on the ground floor, one with bathub on the first floor and two bathrooms, one with shower and one with bathtub on the second floor.
There are spacious balconies and verandas, equipped with patio furniture, with stunning views of the sea and surrounding countryside. The wonderful garden with a big sea view swimming pool surrounded by palm and lemon trees, bougainvilleas and many other flowers and plants is a small paradise for the guests.