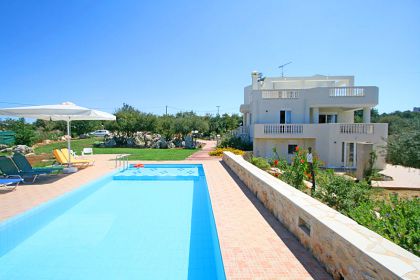 A comfortable living room with satellite TV, a dining table and a fully-equipped kitchen are provided in an open plan design. Big electric kitchen, big refrigerator, dishwasher, microwave and washing machine are also offered.
Another living room upstairs, and four bedrooms (with ensuite bathrooms) are offered. Shower room is also provided on the ground floor. A seperate studio is offered on the lower west part of the villa.
In Villa Holly Courtyard the guests can enjoy an excellent pool and a very big courtyard with olive trees, small rocks and grassy landscape in a plot of 5.000 sqm. Private parking and a stonebuilt barbecue are also provided, while the balconies of the upper floor offer lovely sea views. Adittionally, wireless internet is provided.