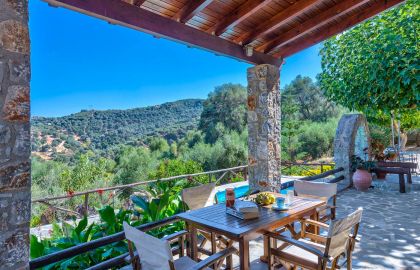 Villa Olive offers a lovely open-plan living room area with fireplace, television, music system, telephone, a dining table, and a fully-equipped kitchen with electric kitchen, big refrigerator, coffee maker, juicer, dishwasher and all necessary cooking utensils.
Two air-conditioned bedrooms, one with a double bed and another with twin beds, as well as a spacious bathrooom with bathtub with hydromassage, hairdyer and washing machine are also provided.
A beautiful courtyard with colorful flowers and various local trees (olive trees, mournies, cypress trees), with an outdoor dining area and barbecue facilities, and a lovely swimming pool with sun loungers create an ideal place to enjoy the natural beauty and relax.