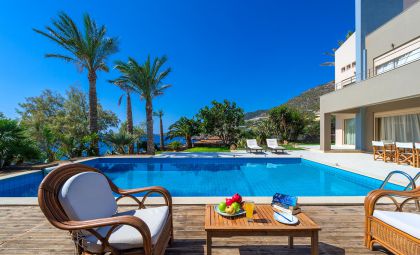 Specially designed according to the principles of modern architecture, and fully-fitted with high standard equipment, in a plot of 1.450 sqm, the villa offers comfortable and luxurius accommodation for 8 people.

On the ground floor a large open plan area with a stylish living room with fireplace and a fine dining area, both overlooking the pool and the blue sea, as well as a fully-equipped kitchen are offered.
A double bedroom and a common bathroom with shower are also provided on this floor.
The wooden staircase leads on the first floor, where two luxurious lofts and a marvelous master bedroom are offered. Every loft is designed in maisonette style offering a cozy and elegantly furnished sitting area and an office on the low floor, while a double bedroom and one en-suite bathroom (one with shower and one with bathtub) are available on the upper floor of every loft. The master bedroom (63 sqm) features a double bed, a fireplace, a cloakroom and an en-suite bathroom with Jacuzzi. In addition, a mini fridge in every loft and the master bedroom is offered.
Central air-conditioning system and central heating are available for the ground floor, while individually controlled air-conditioned units are offered for every room on the first floor. Wireless internet access, satellite TV, refrigerator, hob, oven, microwave, coffee maker, boiler, toaster, dishwasher and washing machine are provided in the villa. 
All guests can relax and enjoy an earthly paradise in the external wonderful garden where there are various tropical plants, papaya and pineapple trees, as well as an outdoor swimming pool (66 sqm) with sea water, creating a magic atmosphere. A comfortable outdoor dining area and patio furniture are also provided.
A small path is leading a few steps lower where are the tempting crystal clear waters of the blue sea. A small cave, specially formed and equipped with sun loungers, table and chairs, is also available right next to the private rocky beach in front of the villa.