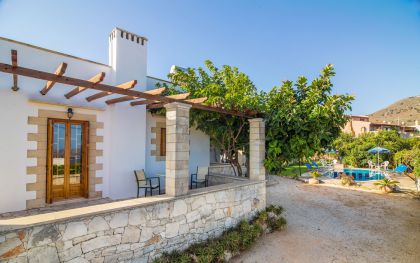 Each villa is designed under high standards of architecture in a most traditional style. The use of stone, the warm fireplace, and the use of wood on the pergolas create a lovely traditional atmosphere in the villas.
The friendly owners, staying in a cottage next to the villas, will offer you a lot of Cretan hospitality.
The flourishing flowers in the courtyard and the grassy landscape around the pool compose a colourful and relaxing environment to live. Please note that the two Villas Manos are semi-detached and they share a lovely swimming pool.