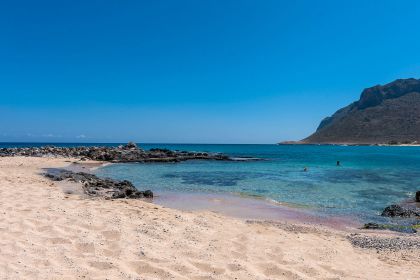 Stavros est un village cotier, dispersé et tranquille, situé 17 kms au Nord-Est de La Canée, sur la route Kounoupidiana-Chorafakia, au Nord de la péninsule de Akrotiri. C est l endroit idéal pour des vacances relaxantes et décompressantes.
L élément le plus beau du village est sa merveilleuse plage de sable, étroite et dominée par l énorme corniche rocheuse qui a servi de fond pendant le tournage du film 'Zorba le Grec'. La plage se trouve dans une baie circulaire où vous pouvez profiter de la mer et du soleil.
Les visiteurs découvriront aussi une grotte Néolithique, qui servait de sanctuaire à la fin de la Période de Bronze et à travers les Périodes Grecques; son entrée est visible de la plage. Il existe, de meme, une autre plage de sable à l Ouest du centre, qui est aussi utilisée pour la baignade.
Le coeur de Stavros est construit à coté de la grande plage de sable et c est la bonne place pour prendre un repas ou une boisson dans l un des nombreux restaurants, tavernes et cafés du bord de mer. Vous trouverez aussi mini-markers et snack-bars.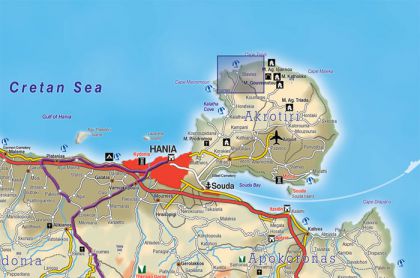 A coté de Stavros, il existe plusieurs plages où vous pouvez aller nager. A la plage de sable renommée de Kalathas (6 kms au Sud) vous pouvez vous faire plaisir en faisant de la planche à voile, du ski nautique, des jeux aquatiques, du canoé et de la plongée sous-marine. Il y a un restaurant construit sur le sable et des équipements de volley-ball sur la plage. La plage de sable de Tersanas (5 kms au Sud-Ouest) offre une alternative pour se baigner et se relaxer, la plage de Marathi (10 kms au Sud-Est) est une autre plage de sable avec bars de plage et café.
Pendant votre séjour à Stavros, vous devez visiter quelques-uns des grands monastères et églises de la péninsule de Akrotiri, "La Sainte Montagne de Crète". Les plus importants sont le Gouverneto (Dame des Anges) et le Katholiko (Saint Jean L Ermite).
Le village est à 25 minutes de l Aéroport International de La Canée et à 35 minutes du port de Souda. Il existe des moyens de transport fréquents (six fois par jour) du village de Stavros au centre de La Canée. Quelquefois, la plage peut etre très peuplée mais meme comme ca, cela reste un bel endroit à visiter pour quelques heures.
We would like to suggest you the next taverns and restaurants in the area of Akrotiri.
Sunset beach, a beachfront tavern on the sandy beach west of Stavros with Cretan food and French dishes served by Malika.
Sunset, a small tavern in Tersanas village with homemade Greek food by Mrs. Maria.
Almyriki, a new seafood restaurant near the centre of Stavros, in front of the sandy beach, with fish food and local dishes.
Mitsos, a small tavern in Kounoupidiana with Greek kitchen and grilled barbecue food.
Bahar, a lovely restaurant in Chorafakia with gourmet Mediterranean cuisine, pasta dishes, risotto and meat dishes.