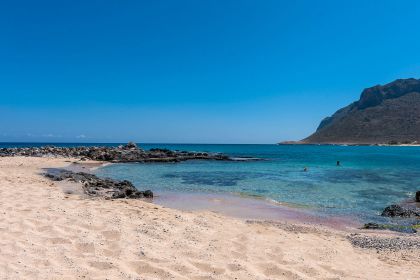 Stavros è un tranquillo, isolato distretto sul mare, situato a 17 km a Nord-Est di La Canea sul camino per Kounoupidiana-Horafakia, sulla punta nord della penisola Akrotiri. È il posto ideale per una vacanza davvero rilassante e familiare.
L'elemento più notevole di questa località è un sottile e meraviglioso lido dominato da un colossale rilievo roccioso che è servito da scenario nel film "Zorbas il greco". La spiaggia attorniata da una baia circolare da cui si può godere del mare e del sole.
I visitatori potranno anche vedere una caverna dell'era neolitica che fu usata come santuario sin dall'Età del Bronzo e durante tutte le epoche elleniche; l'entrata può essere intravista dalla spiaggia. C'è anche un altra spiaggia sul lato ovest del nucleo centrale ed è una zona altrettanto balneabile.
Il nucleo di Stavros si trova accanto ad una vasta spiaggia ed è il posto giusto per una cena o un caffè in uno dei numerosi ristoranti, taverne e caffetterie di fronte al mare. Vi sono anche mini-market e snack bar.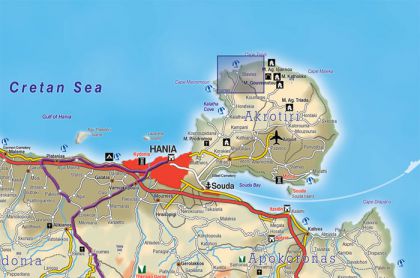 Nella zona circostante a Stavros vi sono molte spiagge dove potrete nuotare . Presso la famosa spiaggia di Kalathas (6 Km verso Sud) potrete noleggiare tavole da windsurf e seguire corsi, praticare sci nautico, sport acquatici, canoa ed immersione. Troverete un ristorante costruito sulla sabbia e campi da beach volley. La spiaggia di Tersanas (5 Km a Sud-Ovest) è un'altra alternativa per nuotare e rilassarsi, Marathi (10 Km a Sud-Est) è un'ulteriore spiaggia che dispone di bar e caffetteria.
Durante la permanenza nel villaggio di Stavros, vi consigliamo di visitare alcuni dei più grandi monasteri e chiese della penisola di Akrotiri, "La montagna sacra di Creta". I più importanti sono Gouverneto (La signora degli angeli) e il Katholiko (San Giovanni Eremita).
Il paese dista 25 minuti dall'aeroporto internazionale di La Canea e 35 minuti dal porto di Souda. Ci sono corse regolari (sei volte al giorno)di mezzi che collegano Stavros al centro di La Canea. A volte capita di trovare la spiaggia affollata, ma anche in casi simili vale la pena di passarvi alcune ore.
We would like to suggest you the next taverns and restaurants in the area of Akrotiri.
Sunset beach, a beachfront tavern on the sandy beach west of Stavros with Cretan food and French dishes served by Malika.
Sunset, a small tavern in Tersanas village with homemade Greek food by Mrs. Maria.
Almyriki, a new seafood restaurant near the centre of Stavros, in front of the sandy beach, with fish food and local dishes.
Mitsos, a small tavern in Kounoupidiana with Greek kitchen and grilled barbecue food.
Bahar, a lovely restaurant in Chorafakia with gourmet Mediterranean cuisine, pasta dishes, risotto and meat dishes.