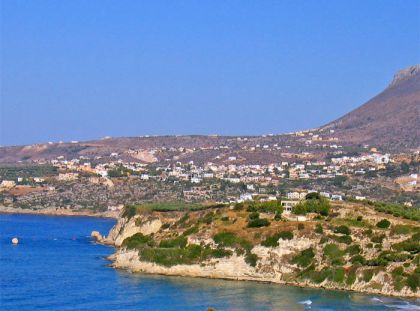 Plaka er en lille stille by på toppen af en bakke over Almirida, med storslået udsigt over Almirida bugten. Den ligger 22 km øst for Chania, 1 km fra Almirida by og er i stor udvikling, og kaldet undertiden "Den Britiske ferie bosættelse"
Plaka er en ideel destination, hvis du ønsker en stille ferie tæt ved det blå hav.. Byen har enkelte tavernaer og minimarked omkring torvet med eucalyptus træer. Hvis du ønsker et større udvalg ligger Almirina lige ved siden af.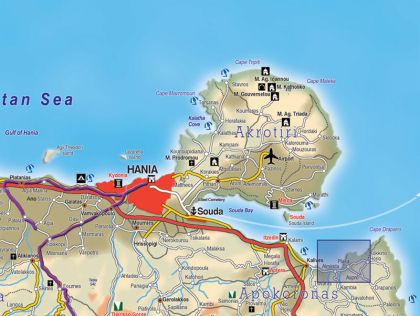 Almirida er en malerisk kystby beliggende 19 km øst for Chania; en anden ideel destination for en stille afslappende ferie, hvor der stadig er duften af den gamle fiskerby.
Der er stille, selv i højsøsonen og Almirida har to strande med "Det Blå Flag". Den mindste mod vest og en lang kurvet strand mod øst. Den østlige side er særdeles sikker for mindre børn. Begge strande har liggestole og parasoller til leje. du kan også leje windsurferudstyr og seljbåde til dagture rundt om halvøen. På den vestlige strand ligger en meget kendt windsurfer skole.
Byen er velforsynet med strandtavernaer, som er populære både blandt gæster og lokale. Du finder mange restauranter og traditionelle tavernaer, der serverer friskfanget fisk og kretensiske retter, lså at sige i vandkanten, plus enkelte café-bars med snacks pg cocktails. Du kan også prøve Dimitri's hvis du vil have fisk. Thalami der både har fisk og græske retter, og Lagos taverna på vejen i den vestligste ende af byen. I byen findes også minimarked og forretninger, gavebutikker og en pengeautomat.