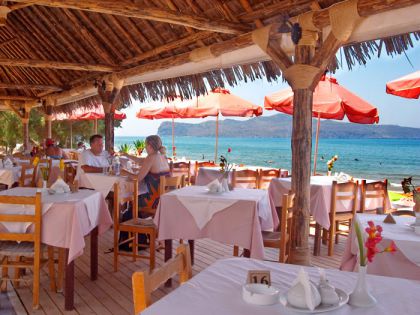 All Inclusive Food & Beverage program will operate from 07:00 to 23:00 with the following:

Food

I. Main Restaurant:
- Breakfast from 07:00 to 10:00 (American breakfast buffet style).
For long-sleepers, continental breakfast 10:00 to 10:30.
- Lunch Buffet style from 12:30 to 14:30 (included soft drinks, beer, wine, water).
- Dinner Buffet style from 19:00 to 21:30, (included soft drinks, beer, wine, water).
Lunch basket (reservation required): Before 07.30: we provide a light lunch basket due to high temperature during the day.
After 07.30: you can prepare a lunch basket of your own choice from our buffet.
II. A wide range of snacks and desserts will be available in both Hotels from 11:00 to 17:30
III. Tea and Coffee time in both Hotels  from 15:00 to 17:00
A la Carte Restaurants with extra charge (Reservation Required).
- Laguna Italian Restaurant from 15th of May till end of the season (19.00-22.00): where our Guests can enjoy their dinner with extra charge.
- Jasmine Chinese Restaurant (19.00-22.00): where our Guests can enjoy their dinner with extra charge.
- La Luna Gourmet Restaurant (19.00-22.00): Under the candle light, with a choice of Lobster, Fresh Fish or Meat on a set Menu..Enjoy a fine selected wine from our list with extra charge or use the All Inclusive formula drinks for free.
Table service for food and beverages in all a la Carte Restaurants
Children under 4 years old are not allowed in the a la carte Restaurants.
Beverages
I. The Pool Bar in Galini Beach & Eden will operate from 10:00 to 23:00 for guests staying on All Inclusive basis. There will be a separate catalogue chargeable to the guests between 23:00 and 01:00.
II. The Pool Bar in Galini Sea View will operate from 10:30 to 18:00. Bar maybe closed due to weather conditions.

III. The following items will be included in the All Inclusive catalogue:
• House wine (white, red and rose)
• All soft drinks and juices (not fresh)
• National spirits, liquors
• Draft beer
• Filter coffee, cacao and tea
• Daily Cocktail

IV. Pay Bar: The main bar in Galini Sea View will operate from 18:00 to 02:00 with extra charge. You can find national & international drinks, liquors, all branded alcohols for 12-18 year old scotch, fine French Cognac or very expensive brands such as per example Johnny Walker Blue Label, Fresh orange juice, soft drinks, imported beer, long drinks & cocktails and all kind of Coffees
Infrastructure in the nearby ***** Galini Sea View
I. All existing infrastructure will be free of charge to the guests:
• Gym area with its Sauna and Hamam (Steam bath)
• Children indoor and outdoor facilities
• Sun beds & umbrellas by the pool
• A minibus was bought by the Hotel and will also provide free shuttle services every hour from the Hotel to the Galini Beach.
Non included services
• Sales at the Hotel Shop (souvenir & mini market)
• Hair dresser
• Safe deposit Box in the rooms
• Manicure – pedicure
• Massage
• Telephone and business services
• Room Service
• Special events such as Grand Fiesta, Lobster Night
Galini Sea View (*****) is 200 meters far from Galini Beach & Eden (***).