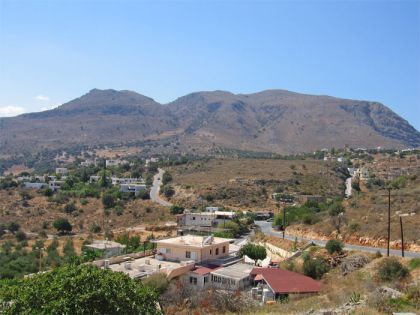 Megala Chorafia is a picturesque hilltop village surrounded by green countryside with panoramic views of the magnificent White Mountains and the Aegean, and it is located 9 km away from Chania.
Megala Chorafia is developed in two cores; the first core is around the junction that leads to some of the traditional villages of Apokoronas (Samonas, Stilos, Provarma, Machairoi) and the second core is developed next to some of the ruins of the ancient city of Aptera (the ruins are spread out over two hills).
While staying in Megala Chorafia you can go for swimming or entertainment in the excellent sandy beaches and the lovely waterfronts of Kalives (3 km) and Almirida (8 km). If you want to eat something you can try the traditional tavernas located in the first core (there is a mini-market here, too).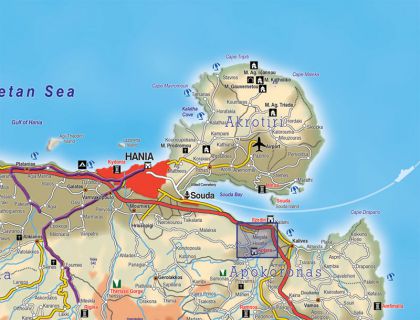 The village is well-located to make excursions in the nearby, traditional, (in the countryside) villages of the Apokoronas district; in Stilos you can have a drink in the shady cafes, in the Samonas village you should visit the lovely isolated church of Ayios Nikolaos with fantastic medieval frescoes) exploring the traditional Crete; you can see wild flowers unique in Crete or walk in many small gorges in the Apokoronas district. From here you can also explore the rest of Crete since the distances are small; Megala Chorafia is next to the National Road leading you everywhere in Crete.
Regarding to Aptera it was one of the most important city-states of Crete. The first epigraphic occurence of its name is found in the Linear B tablets (14th - 13th century B.C.). The history of the city continued through the centuries until the 7th century A.D., when an earthquake destroyed it. Its ideal location was determinative for its development in an important commercial and political center. By harbors, Kissamos and Minoa, located on both sides of Suda Bay, Aptera was able to control the naval activity. The era of the citys greatest peak was the early Hellenistic period (late 4th - 3th century B.C.).