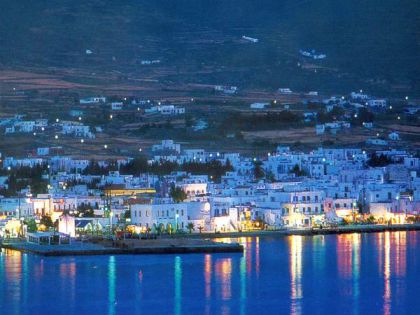 Paros is one of the largest islands in the Cyclades Islands with Parikia being the capital of the island. Paros is located between the islands of Naxos and Sifnos and it offers 120 km of coastline. In Paros life passes in a careless and relaxing way.
The guests can visit the Byzantine church of Ekatontapyliani, the Archaeological Museum of Paros, the ancient Acropolis and much other sightseeing in the town of Parikia.
The picturesque town of Naoussa with many fishing boats lovely sunset views offers a lot of shops, taverns, restaurants, cafes, bars and clubs and is well-known for its great nightlife.
Lefkes village is also worth visiting for the impressive architecture, the lovely houses and the pottery shops.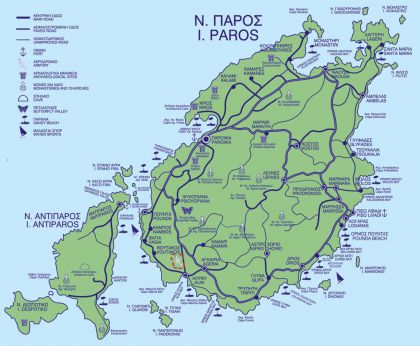 If you would like to travel back to time, you can visit the villages of Lefkes, Marpissa, Alyki, Abelas, Drios, Piso Livadi and Pounda.
The airport of Paros is situated 9 km to the south west of Parikia, nearby the village of Alyki. There are regular flights to and from Athens.
Local buses frequently link the "Paros Panteleio Airport" to Parikia (10 minutes) and Naoussa (25 minutes), which is the second important town of Paros, at 10 km northeast of Parikia.
Petaloudes (butterflies in Greek) is a valley at a distance of about 7 km from Parikia towards Pounta (South). Late Spring and during the first months of the summer numerous butterflies cover the whole valley.
Livadia is the most popular beach on the north side of Parikia, in Livadia. It is a long, sandy beach with clear waters, and a few shops along the beach
Krios beach is located 2 km far from the centre of Parikia with many restaurants and bars. Marcelo is another long, sandy beach at the extension of the beach of Krios with again many restaurants and bars.
Pounda is a beautiful, continuous, small beach in the homonymous resort, 8,5 km south of Paroikia. Pounda is exactly opposite of Antiparos islet and it is mostly preferred by the young with beach-bars and a few sea sports.
Monastiri is located in the west part of the bay of Naoussa and it is one of the most famous and overcrowded beaches of Paros. There are restaurants and bars that attract the youth.
Kolimbithres beach is a very beautiful, quiet, sandy beach in the west part of the bay of Naoussa. The rocks of granite because of the rot have been formed in different shapes and create natural hollows full of sea water that look like fonts and this picture is really interesting.
Agioi Anargyri is a sandy beach a few hundred meters easter ofo Naoussa and 11 km northeast of the town of Paros (Parikia). It is a small, sandy beach with golden sand and crystal clear waters.