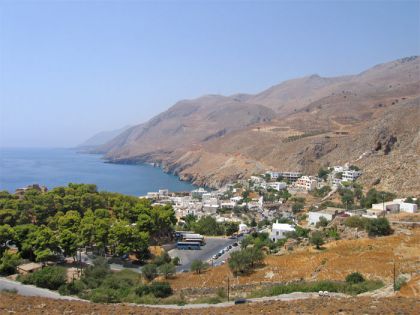 Sfakia is a small, picturesque village built around a coastal port in the south Crete. Here the walkers from the Samaria Gorge spill off the boat and onto the bus, however it would be nice to visit the town for a couple of days or for a day trip. The village is located 62 km south of Chania, at the end of the rural road that begins at Vrisses of Apokoronas and cuts to the south across the Chania prefecture. The village has played a very important role in the history of the wars against the invaders of Crete.
In the Sfakia there is a small pedestrian street with tavernas, cafes and shops just next to the sea. There is a lovely pebble beach in the front of the village's waterfront; however the best beaches are remote and they are located a few km far from Sfakia (a few beaches are offered for nudism, too).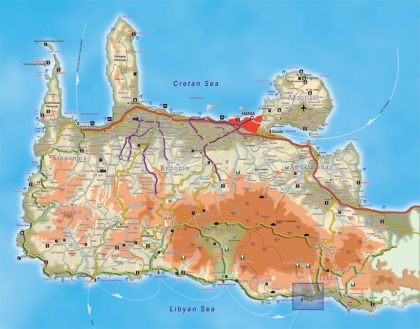 Most beaches are pebble beaches but there are also a few sandy beaches. On the road to Anopoli if you turn left after the last houses of the village you will find a lovely pebble beach.
In Sfakia there is one ATM, a post office and OTE. If you want to eat you can try the Samaria taverna which offers traditional food, vegetarian dishes and grills. The waterfront is ideal to relax under the pergolas while having your coffee or taking a drink.
Nearby the Sfakia is the Fragokastello village with the famous castle, which worth seeing; there is a sandy beach next to the castle which you can also visit. While staying in Sfakia you should also visit the remote, traditional village of Anopolis (the road is full of curves and it is very dangerous!) and the Aradena Bridge a few km after the village. Moreover, if you like walking the remote seaside village of Loutro is in 2-hour distance (5.5 km) to the west (you can also go to Loutro by boat).