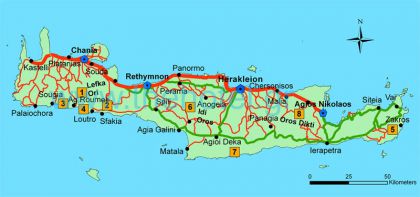 It is a very picturesque gorge, seventeen km long (the longest of Europe), which can be walked in seven hours. It extends between the villages of Omalos and Agia Roumeli, cutting through the southern fringes of the White Mountains.
2) Imbros Gorge
It is a very picturesque gorge, six kilometers long, which can be walked in four hours. It extends between the villages of Komitades and Imbros, cutting through the western fringes of the White Mountains.
3) Sougia-Agia Roumeli
The walk starts from the beach village of Sougia to Agia Roumeli through pastureland and fields of wild flowers.
4) Agia Roumeli-Loutro
Firstly you follow a path along the beach of Agios Nikolaos, then you climb onto a plateau, and pass through the Aradena Gorge to arrive to the tourist village of Loutro.
5) Zakros Gorge
It is a walk along a dry stream through eroded limestone cliffs with caves which were some of the Tombs of the Minoans.
6) Climbing Mt Idi
This should be tried only by experienced walkers. You begin on the Nida Plateau and walk until 2,456m (eight-hour walk).
7) Mt Kofinas
It takes five hours to climb from the remote village of Kapetaniana to the summit of Kofinas and come back. Nice views on the Mt Idi and the south coast are offered.
8) Diktian Cave (Lasithi)
It is an easy walk (7-Kms) which starts from Tzermiadou to the Diktian Cave through fields, olive groves and orchards.
9) E4 European Mountaineering Footpath
It is the longest and most difficult walk around the island which takes 30 days to complete and can be tried only by very much experienced walkers. The trans-European E4 walking trail starts in Portugal and finishes in Crete. In Crete it starts at the port of Kissamos-Kastelli and ends - after 320 Km - on Kato Zakros in eastern Crete. Enthusiasts can do it in a minimum of three weeks, allowing 15 km per day, or more comfortably in four weeks.