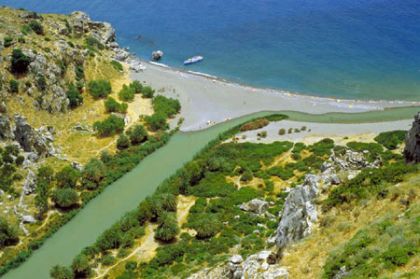 Preveli sandy beach and gorge are an excellent sightseeing to visit while staying in Rethymnon. You can go to Preveli either by car (you should leave it about 30 minutes walk down to a steep hill) or by ferry.
The main access to Preveli from Rethymnon is through a 2km long steep gorge, the Kourtaliotis gorge. According to the legend, the name 'Kourtaliotis' is derived from the clinking of stones heard rattling when the north wind blows through this narrow passage.
The Kourtaliotis river runs through the gorge, into which other streams of the area flow to form the Great River.
The main springs of the river are virtually in the center of the gorge, near the church of the local saint, St. Nicolaos the Kourtaliotis. The river flows into the Libyan Sea, passing through fertile farming sites, at a place called Limni, which is very well-known for its beauty.
The whole area is quite remarkable for its fertility and the richness of the flora and fauna. The diverse vegetation, including self-planted palm trees, offers an exotic impression to the beautiful landscape.