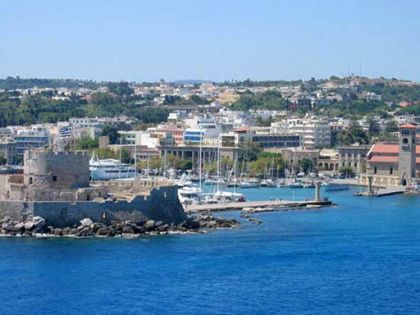 Rhodes is the largest of Dodecansesa islands, and the capital of this group of islands with 100,000 people in total. Rhodes offers lovely sandy beaches, a beautiful old town, and many choices for elegant restaurants, cosy bars, nice local food and wine.
Rhodes is located in the eastern Aegean Sea which is famous for its medieval old town (one of Unesco monuments, the largest inhabited medieval town in Europe). The castle of Knights, the palace of the Grand Master, the white town of Lindos (48 km south of the town of Rhodes) with the
remains of the Acropole, and the Valley with the butterflies (27 km southwest) worth visiting. The guests can also visit the Aquarium in the centre of the town of Rhodes and the waterpark of Faliraki at about 10 km south of Rhodes town.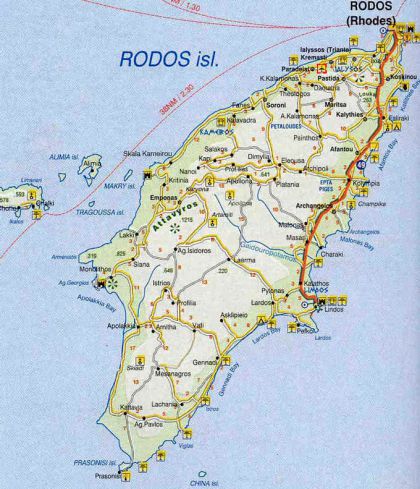 The beaches of Rhodes are usually sandy beaches and crystal clear waters, however sometimes the guests can also meet shingle or pebble beaches. A wide range of beaches, from isolated and totally unspoilt to fully organized beaches, can be found in Rhodes.
Kalithea beach with old Italian baths is on the north east coast of the island and it is another  famous spa resort. Kalithea is located 5 km south of the town of Rhodes.
Faliraki beach with sand and crystal waters is also best known for its thriving nightlife and one of the most popular tourist destinations outside of the city. Many restaurants, cafes and tavernas are located within walking distance of the beach.
Lindos bay (about 48 km south of the town of Rhodes) offers many beaches on the east part of Rhodes, near the archealogical site of Lindos Acropolis. Near Lindos, there is a small cove with a chapel dedicated  to saint Paul, who landed Here in 43 AD to preach Christianity. The beach is mixed sandy-pebble and the guests can come here from Lindos on foot.
Tsambika is one of the most beautiful beaches of the island. The sandy beach is situated at the eastern coast of the island, 26 km from the town of Rhodes, close to the famous monastery of Panagia Tsambika. It is well organized with umbrellas, sun beds and sea sport facilities.
Next to the beach, climbing on the rocks, the old Monastery of Panaghia Tsambika which is dedicated to Virgin Mary, can be found. Virgin Mary is believed to protect the childless women and helps them to have a baby.
Rhodes is connected with Europe and Greece with charter flights by Diagoras airport.