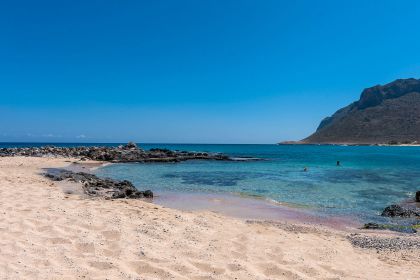 Stavros är ett lugnt område vid havet, distriktet ligger ca 17 km nordost om Chania på vägen till Kounoupidiana-Horafakia, vid norra spetsen av halvön Akrotiri. Det är en idealisk plats om du behöver riktigt varva ner och ha en skön och avkopplande semester.
Den mest underbaraste delen av byn är en underbar, smal remsa av sandstranden som domineras av en gigantisk sten hylla som delgivits som en bakgrund för filmen "Zorba the Greek". Stranden omges av en rund vik där du kan njuta av det härliga havet och solen.
Besökarna kan också hitta en neolitisk grotta som användes som en fristad från slutet av brons-tid och genom alla grekiska perioder, dess ingång kan bara ses från stranden. Det finns en annan sandstrand på den västra sidan som också används av besökare för att bada.

Kärnan i Stavros är byggd bredvid den stora sandstranden och det är rätt ställe att äta middag eller kaffe i på en av de många restauranger, tavernor och kaféer vid vattnet. Här kan du också hitta mini-market och snackbarer.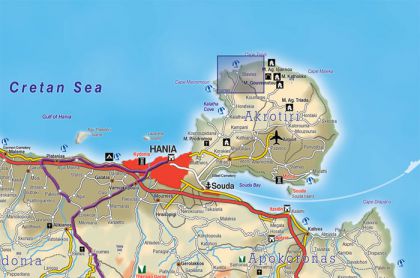 Bredvid Stavros finns många stränder där man kan gå för att bada. I det berömda Kalathas sandstranden (6 km söder) kan du unna dig med vindsurfing uthyrning och instruktion-lektioner, vattenskidor, vattenspel, kanoter eller dykning. Det finns en restaurang byggd på sanden och volleyboll finns också på stranden. Tersanas sandstrand (5 km sydväst) är ett annat alternativ för bad och avkoppling, Marathi stranden (10 km sydost) en annan sandstrand med strandbar och café.
Medans du bor i Stavros by du bör besöka några av de stora klostren och kyrkorna på Akrotiri halvön, "The Holly Mountain of Crete". Den viktigaste är Gouverneto (Lady of the Angels) och Katholiko (Agios Ioannis Eremiten).

Byn ligger 25 minuter från den internationella flygplatsen i Chania och 35 minuter från hamnen i Souda. Det är regelbunden (sex gånger per dag) transport till Stavros by från centrala Chania. Ibland kan sandstranden vara trångt men den är ett fint ställe att besöka för ett par timmar.
We would like to suggest you the next taverns and restaurants in the area of Akrotiri.
Sunset beach, a beachfront tavern on the sandy beach west of Stavros with Cretan food and French dishes served by Malika.
Sunset, a small tavern in Tersanas village with homemade Greek food by Mrs. Maria.
Almyriki, a new seafood restaurant near the centre of Stavros, in front of the sandy beach, with fish food and local dishes.
Mitsos, a small tavern in Kounoupidiana with Greek kitchen and grilled barbecue food.
Bahar, a lovely restaurant in Chorafakia with gourmet Mediterranean cuisine, pasta dishes, risotto and meat dishes.