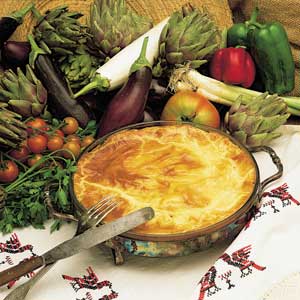 Crete has one of the oldest and most tasty gastronomic traditions in the world, a tradition of tastes, aromas, ingredients and skills which begin from the prehistoric years.
Among the searches in the international scientific community concerning helath there is more and more a discussion about the famous Mediterranean diet and its superiority in relation to other gastronomic traditions. In 1994 the World Health Organization, the School of Public Health of Harvard, and the Health Organization "Oldways" presented the Pyramid of the Mediterranean diet demonstrating scientifically that the diet of the peoples of the Mediterranean, rich in vegetables, pulses, fruits, cereals and with basic source of fats being the olive oil, constitutes to the preservation of good health and long life.
The Cretan diet constitutes the recent years the subject of study, since the majority of studies demonstrates that the Cretan cuisine is the most characteristic and qualitatively high example of the Mediterranean diet. It has been shown that the inhabitants of Crete have the lowest indicators of mortality and the lowest, on a global scale, mortality from cardio-vascular illnesses and cancers.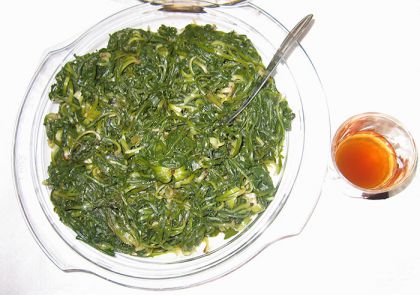 What is however the secret of the Cretan diet?
The answer is that the Cretans are raised with the products of the earth, that is they eat abundant greens and vegetables, pulses and fruit, season their food with the greens and plants of the mountains of the island, such as thyme and basil, while nearly always the food is accompanied by wine from the local vines and outstandingly tasty bread, which traditionally is made with yeast. Another characteristic of the Cretan table is the variety of dishes, where no one monopolizes the taste.
The most important however element is the oil, which for the Cretans and for all the peoples of the Mediterranean, constitutes the basic source of fats. Oil constitutes the base of the Cretan and Hellenic diet, and is used in the majority of plates replacing butter or other forms of oil which are used in other areas of the world. The nutritional value of the oil is great whereas it constitutes the strongest antioxidant of nature, that is protecting the organism from the oxidization and the development of free radicals which cause serious illnesses.
Crete with its Mediterranean climate and good formation of its ground allows to the olive tree not only to flourish everywhere, both in plains and in mountainous areas, but also to give to the oil the best possible quality, with low acidity and wonderful aroma. The fact that the Cretans live more and have the lowest indicators in the appearance of illnesses seems to be certainly connected with the fact that they are the largest consumers of oil world-wide.