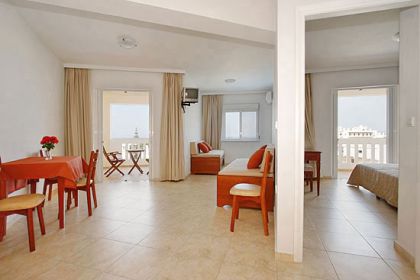 Kalimera Hotel offers 16 studios,
1-bedroom and 2-bedroom apartments spread in four floors in one main building. All of them are equiped with fully equipped kitchen, air-condition, television, safe, private bathroom with shower and warm water, sea view balconies and verandas.

Every studio can accommodate up to 3 guests, every 1-bedroom apartment up to 4 guests, and every 2-bedroom apartment up to 6 guests.
Kalimera Hotel offers swimming pool as well as children pool, snack bar, garden, market and free parking.