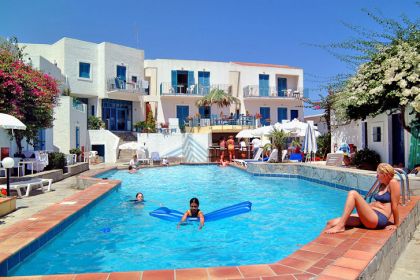 Kirki Village offers a large swimming pool which is surrounded by lushious, green gardens and seaside trees. A great pool-snack bar with a fine sun-terrace above it, and a restaurant (serving buffet style breakfasts and dinners) are offered. Sea-views from the courtyard, apartments and studios are also offered.
In addition, a marvellous, sandy beach with crystal clear waters can be found only a short 200 m walk away from Kirki Village.
Finally, an internet corner, TV room, Library and small souvenir shop is offered in Kirki Villages friendly reception.