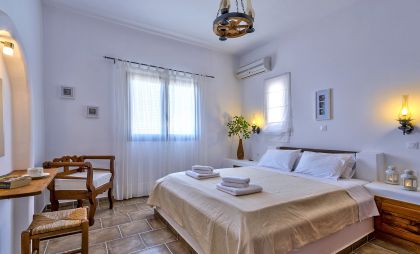 On the ground floor two bedrooms are offered. One with double bed, French doors and an ensuite bathroom with shower and hairdryer. The other offers a double and a single bed with ensuite bathroom with bathtub and French doors.
On the top floor, two more bedrooms are provided. One with double and another with twin beds. A shared double bathroom, whirlpool bathtub, a lounge with sofa bed and a large veranda are also offered.
All the rooms are beautifully funished and full of character with traditional features such as stone arches, and wooden beams and all offer air-conditioning. The villa also offers a spacious living, dining and kitchen area downstairs, a good size pool, amazing outdoor living space including dining, breakfast and living areas, spacious sun terraces, huge verandas and a breathtaking view of the Libyan sea.