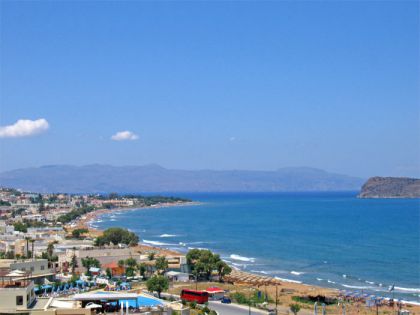 Stalos is a waterfront touristic village that is located 7 km away from the city of Chania. It is made-up by a long, endless, sandy beach and an interesting waterfront with small hotels, cafes, restaurants and bars.
There are numerous shops, restaurants and all the necessary everyday facilities along the main road that connects Stalos to Chania. The accommodation is dispersed from the waterfront to the small cliffs to the south of the village which offer great views to the visitors.
In Stalos there there are beach bars and sport facilities. You can have lovely views on the islet of Agioi Theodoroi from anywhere. There are also more small bars and cafes along the main road like the famous Mambo club. Moreover, it is easy to go to Agia Marina in the great clubs 'De-Stijl' and 'Island' or to the village of Platanias in the bars 'Splendid', 'Tropicano', 'Mylos' to have even more fun, since the villages are in 2-3 km distance.
Maria restaurant in the center of the village is a very good choice for food. There are more choices along the main waterfront road and in the near Platanias (Mylos tou Kerata).