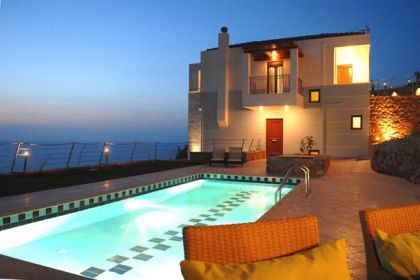 All our guests can enjoy a lovely breakfast every morning prepared by the friendly reception. Okeanides Villas offer a common barbecue, free supply of fruit and vegetables from the local supermarket, and a common reception. Optional services include butler, lunch or dinner at the nearby tavern, chef, car rental, transfer, diving and water kids lessons.

Bali offers many sea sports such as water skiing, diving lessons, windsurfing.
Our guests can enjoy the privacy of their private pool or can visit the sandy beach in the nearby small bay, 800 meters away. Sun umbrellas and sun loungers are provided both in the private pools and the sandy beach. Moreover, the villas offer special facilities for children such as pool toys, child seats, baby cot and high chair if requested. A special fence for safety reasons of children can be put perimetrically of the courtyard, if needed.
Okeanides Villas prepare a very warm welcome to our guests with a fruit basket & wine and beverages. Free Wi-Fi is provided in every villa.