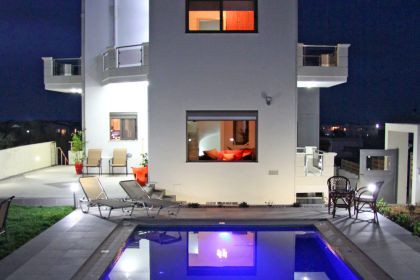 A modern and stylish open-plan living room area with sitting area, dining area, fireplace, satellite TV and wi-fi internet is provided. A fully equipped kitchen with washing machine, diswasher, microwave and refridgerator is provided.
The ground floor doors open to a private walled garden with a grassed lawn, flowerbeds and a private pool of 28 sqm. Outdoor furniture is provided, including sunbeds, outdoor dining and lounge furniture, stonebuilt barbecue and oven.
Pretty Villa offers 4 bedrooms in total. One bedroom with single bed converting to double is offered on the ground floor, as well as two double bedrooms are provided on the upper floor. A fourth twin bedroom is available on the semi basement.