Preveli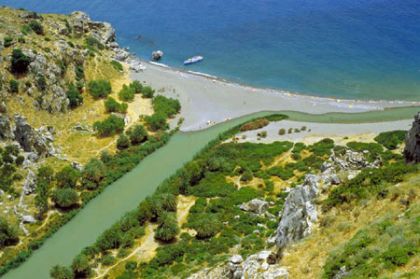 The Preveli beach (or Palm Beach) is a lovely sandy beach with palm trees at the exit of the Kourtaliotis river to the sea. It lies in the end of the Kourtaliotis Gorge, next to the Preveli monastery.
The best way to visit the Preveli beach is to drive until the parking of the Preveli Monastery (about 1.5 km away from the beach) and then walk down the path. It takes a little more than a quarter, however the return is much harder.
Another way to reach the Preveli beach is to go to the Plakias village and then take the ferry to Preveli (there is a daily trip departing at about 10:00 in the morning and returning at about 17:00 in the afternoon).
Agios Pavlos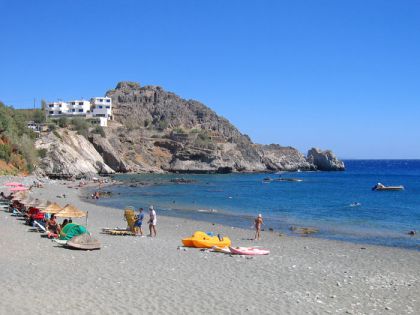 Agios Pavlos is an ideal remote place to relax for a few days or to visit for a while, located 58 km from Rethymnon and 13 km from the main road leading to Agia Galini. Facilities for swimming, sunbathing and water sports are offered in the quite long, sandy beach in a small gulf with crystal waters.
Two more "hidden" sandy beaches lie about 150m far from the main beach. Bathing in one of the isolated inlets, which have been formed among the rocks, and seeing the sand dunes will be an unforgettable experience. Finally, a few cafes and tavernas are offered in the village.
To go to Agios Pavlos you should follow the road to Agia Galini and after 46km turn right at the crossroads of the village of Kria Vrissi. Then you should continue straight until the seaside.
Skinaria Beach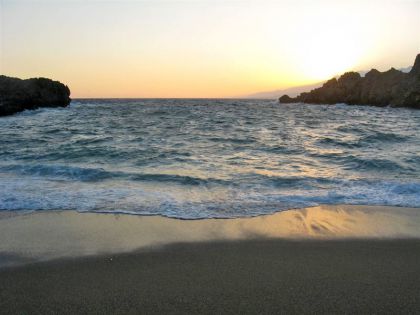 Skinaria is an excellent sandy beach accessed from Lefkogeia village (3 km far) on the road from Plakias to Preveli which is located 38 km from Rethymno. The beach is not usually crowded by visitors.
Skinaria beach has been developed during the last years and it offers a taverna next to the beach, and facilities for swimming, sunbathing and sea sports.
Access from Rethymno is possible by public bus up to Lefkogeia (32 km far from Rethymno at the South) and then on foot, but the best way to reach the beach is by rented or private car and motorbikes.
Ammoudi Beach
Ammoudi is a popular sandy beach, located in the south Crete, 6 km east of Plakias and 38 km away from Rethymno. Ammoudi is a well organised beach, offering accommodation facilities in hotels and rooms to let, as well as taverns and restaurants for food and drink. Swimming, sunbathing (sunloungers, umbrellas) and sea sports are also available in the beach.
Next to Ammoudi there is the "mikro" little Ammoudi beach, which is another smaller sandy beach, preferred by nudists.