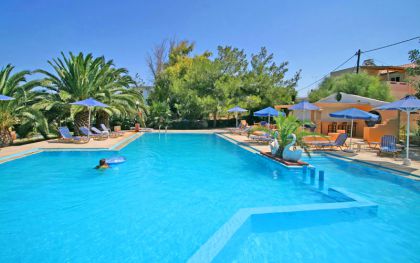 A large swimming pool in the middle of lush gardens gives the guests the chance to relax while lying under the warm sun. Palm trees and flourishing gardens are dispersed around the pool and the buildings creating a fantastic tropical atmosphere.
A small reception area, an excellent traditional taverna (many Greeks visit it!) with Cretan food and local wine, and parking area are offered in the complex.
Finally, the lovely sandy beach of Tersanas is only 800m away from the complex, a 10 minute stroll down hill.