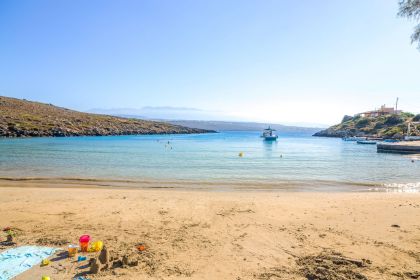 Tersanas är en liten naturlig vik, ca 13 km nordost om Chania, i en lugn by med en härlig sandstrand i en liten vik. Det är en idealisk plats om du bara vill varva ner och ha en lugn och avkopplande semester intill havet.På den mycket vackra stranden i Tersanas finns det solstolar och parasoller. Det är allmänt grunt vatten så barnen kan också lätt leka och simma här. Ibland på helgerna så kan sandstranden bli ganska trång av lokalbefolkningen från Chania, men även då är det ett mycket fint ställe att besöka för ett par timmar.
Ytterligare två utmärkta sandstränder finns i Kalathas (3 km söder) och i Stavros (4 km norr) med mjuk sand och klart vatten.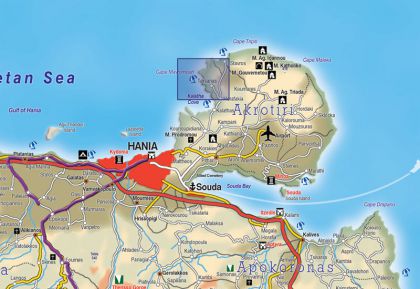 I Tersanas finns det några trevliga tavernor och kaféer. För det första, ett härlig café på kanten av stranden, vid havet. En annan underbar taverna (Sunset) med fin utsikt är byggt på toppen av backen. För den dagliga shoppingen rekommenderas den närliggande byn Chorafakia (1 km) där du kan hitta några affärer och tavernor. I Chorafakia finns också en busshållplats med tät (sex gånger per dag) transport i samband med centrala Chania.Medans du bor i Tersanas byn bör du besöka några av de stora kloster och kyrkor på Akrotiri halvön, "The Holly Mountain på Kreta". De viktigaste är Agia Triada (Holy Trinity) klostret, Gouverneto (Lady of the Angels) och Katholiko (Agios Ioannis Eremiten).Tersanas ligger ca 20 minuter ifrån den internationella flygplatsen i Chania och en halv timme från hamnen Souda.
We would like to suggest you the next taverns and restaurants in the area of Akrotiri.
Sunset beach, a beachfront tavern on the sandy beach west of Stavros with Cretan food and French dishes served by Malika.
Sunset, a small tavern in Tersanas village with homemade Greek food by Mrs. Maria.
Almyriki, a new seafood restaurant near the centre of Stavros, in front of the sandy beach, with fish food and local dishes.
Mitsos, a small tavern in Kounoupidiana with Greek kitchen and grilled barbecue food.
Bahar, a lovely restaurant in Chorafakia with gourmet Mediterranean cuisine, pasta dishes, risotto and meat dishes.