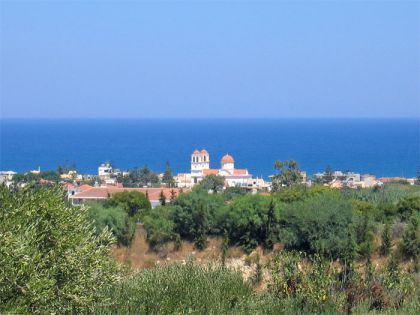 Maleme is a historical, seaside, quiet village, 16 km west of the city of Chania, which is developed around the church of Agios Antonios. It is built on small hills, between the small rivers Tavronitis and Geranis, surrounded by olive trees, orange trees and vineyards. Maleme is next to Gerani and near to Platanias.
Along the old National Road which passes through Maleme there are located all the everyday facilities; a supermarket, a butcher, a public Medicine Center, Police Department, pharmacy, mini-markets.
There are many cafes, tavernas and restaurants dispersed from the center of the village to the beach a few hundreds meters to the north. There is also a primary school in the village.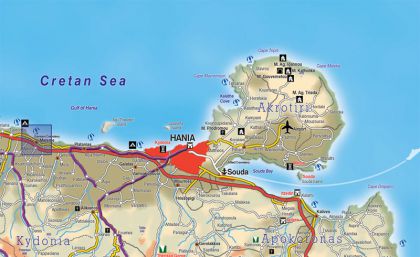 There are provided many kinds of water sports, fishing, snorkelling, and diving in the waterfront of Maleme; mountain biking is available on the cliffs south of the village, and horse riding facilities are provided in the horse riding centre in the nearby village of Deres. The long fine pebble beach on the north is partly organised (not crowded) and provides all kind of facilities such as sun-chairs, umbrellas, showers and sea sports. There are cafes, bars and restaurants along the waterfront road. If you want more intense nightlife just try the nearby villages of Platanias and Agia Marina or visit the old town of Chania.
In the Maleme district took place the famous Battle of Crete in the Second World War, which started on the 21st of Mai 1941 and led to the invasion of the German troops after the fall of the airfield of Maleme. There is a German cemetery nearby the village with 4465 buried German soldiers. It is placed on a hillside below the ridge known as Hill 107, which played a very important role in the defence of the airfield.
A Late Minoan tomb which was discovered in 1966 near the cemetery is also worth seeing.
Maleme is near the knot of the new National Road in Gerani, making it easy to travel everywhere in Crete. Its time-distance from the international airport of Akrotiri and the Souda port is a little more than half an hour, if you come from the new National Road. There are also frequent buses from the center of Chania.