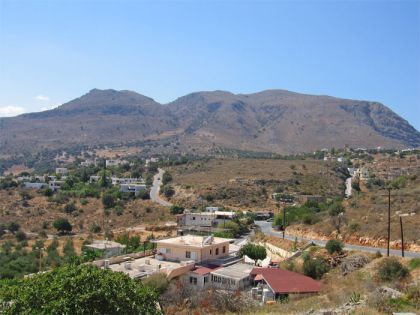 Megala Chorafia er en malerisk bjergby omgivet af grønne områder med panoramaudsigt over de fantastiske Hvide bjerge og havet, og med en beliggenhed kun 9 km fra Chania.
Megala Chorafia er opbygget i to knudepunkter. Det ene er omkring krydset der fører til nogle af de traditionelle byer i Apokoronas (Samonas, Stilos, Provarma, Machairoi) og det andet er opbygget omkring byen den ældgamle by Aptera (hvis ruiner ligger spreedt ud over to bakker).
Mens du opholder dig i Megala Chorafia, kan du svømme eller forlyste dig ved den fantastiske sandstrand og dkønne vandstrækning ved Kalives (3 km) og Almirida (8 km). Ønsker du at spise, kan du enten prøve en af de traditionelle tavernaer der ligger ved første knudepunkt, hvor der også er en mini-marked.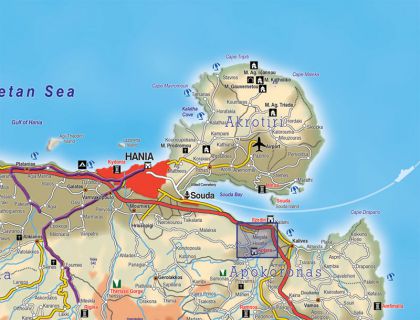 Byen er velplaceret for udflugter i det nærliggende traditionelle landområde, til byerne i Apokoronas distriktet; i Stilos kan du have en drink i den skyggefulde café, i landsbyen Samonas kan du besøge den isolerede beliggende kirke Ayios Nikolaos med fantastiske middelalderlige freskoer. Du kan udforske det traditionelle Kreta; se vilde unikke blomster på KReta eller gå en tur i de mange små kløfter i Apokoronas distriktet. Herfra kan du også udforske resten af Kreta på grund af den gode placeringen; Megala Chorafia ligger lige ved siden af nationalvejen, der fører dig til alle steder på Kreta.
Aptera var i sin tid en af de mest betydningsfulde byer på Kreta. Den første epigrafiske fortegnelse er fra omkring 14-13 før Kristi fødsel. Byens historie fortsætter fennem århundreder indtil det 7ende århundrede, hvor et jordskælv ødelagde byen. Den ideelle placering var afgørende for byens udvikling som handelssted og politisk center. Med havnene Kissamis og Minoa, beliggende på begges sider af soudabugten, Aptera var i stand til at kontrollere aktivitet på havet, Byens største æra var i perioden omkring 3-400 år før Kristi fødsel.