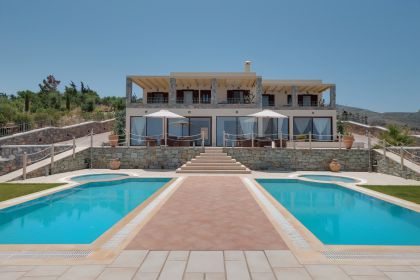 A brand new ground floor 1-bedroom apartment is available in Villas Milos, below the two Villas Milos, in front of the pool area.
It is located just under the two upper floor Villas and it offers great sea views and pool views.
The 1-bedroom Apartment offers an open floor living room area with a sea view sofa corner and a fully equipped kitchen, one bedroom with a double bed and 2 single beds, and a bathroom with shower and washing machine.
Please be kindly informed that all guests can also enjoy next to the apartment a playroom providing an extra bathroom.