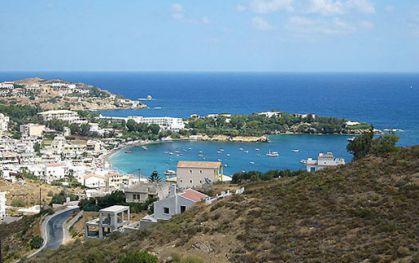 The picturesque coastal resort of Agia Pelagia is built around a small traditional seaside fishing village, in a circular sandy bay. Located 22 kms west of Heraklion, its unique location allows visitors to enjoy all the benefits of a peaceful seaside resort but within easy access of a large town.
The bay is protected from winds and the crystal clear sea is almost always calm. The resort is most suited to those who want a relaxing holiday combined with water sports.
There is no intense night life here, but there is a good selection of traditional and international restaurants, tavernas, cafes and bars in Agia Pelagia, and all have beautiful views of the bay where you can watch fisherman preparing their nets, and old fishing boats anchored in the bay. Agia Pelagia has just about everything youll need on your holiday in the village centre including; super-market, pharmacy, doctors, car and bike rental, tourist office, souvenir and boutique shops, internet cafe and an ATM.
Surrounded by mountains and hills, Agia Pelagia lies right in the middle of Crete making it a great base for exploring crete and the local area. It is the receipe for a relaxing, and authentic Cretan holiday with all modern amenities.