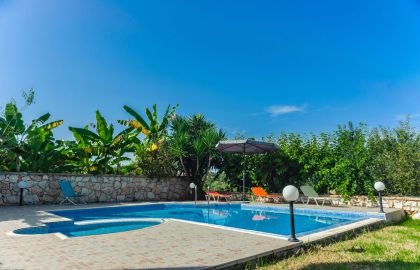 Every villa offers an open plan living room with TV and fireplace, a dining room and a fully-equipped kitchen on the main floor (second level). Big electric kitchen, big refrigerator, a washing machine, a boiler and coffee filter are offered.
A second open plan living room, dining room and kitchen (big refrigerator and big electric kitchen) are provided on the pool level of every villa. Seperate entrance from the courtyard is offered.
In every Villa Theodora the guests can enjoy an excellent pool with wonderful mountain and sea views, next to beautiful banana trees and grassy landscape. Sun loungers and umbrellas are offered. Moreover, safe parking in the plot and air-condition in all the bedrooms are provided. Outdoor barbeque is also available.