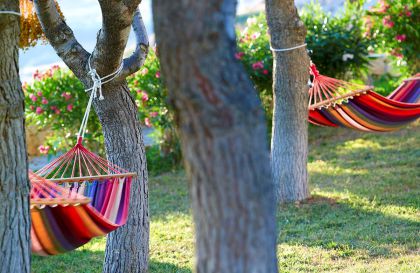 The lovely hotel is perfectly designed in order to satisfy even the most demanding guests offering a combination of modern amenities and natural beauty. Guests may relax under the hot summer sun, next to the outdoor swimming pool with half sweet and half salt water. Sun loungers and umbrellas are available.
An indoor heated swimming pool (Jacuzzi) with half salt and half sweet water, suitable for up to 10 guests is also provided, as well as a yoga room and a hammam, ideal for relaxation and calmness.
Aroma Creta also offers a lounge area, a TV room, a play room (billiards, table tennis, chess, backgammon, and various board games), a beautiful colorful garden, parking facilities, jewellers, souvenirs and traditional products, as well as a mini-market 50 meters away from the hotel. Next to the reception a library with several books is also provided. Additionally, an equipped children's area is available just 20 meters from the swimming pool. Wireless internet access is availanble in the entire hotel.
Aroma Creta also offers upon request for an additional cost services such as babysitting, massage, manicure and pedicure, laundry and dryer and hairdressing.
Delicious specialities from Cretan cuisine and a la carte menus, perfectly cooked according the Meditteranean way, using fresh products are served in the main restaurant "Panorama" and the traditional tavern "Pelagos", placed on the beach. Finally, refreshning drinks and snacks are also served at the pool-bar during the day, whereas the bar next to the reception offers guests the opportunity to enjoy their coffee or drink in the veranda, the lounge or their rooms veranda.