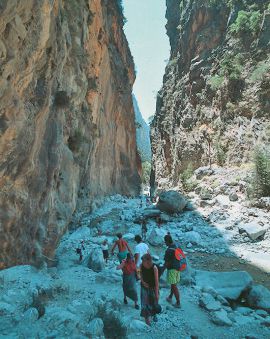 Crete lies at the centre of the eastern Mediterranean basin, where the continents of Europe, Asia and Africa meet. It is the largest greek island, the fifth largest in the Mediterranean, it covers an area of 8,336 square km and it stretches 257 km along an east-west axis. Its population is a little more than 601,131 people (2001 report) and it is divided in four prefectures; Chania, Rethymnon, Heraklion and Lassithi (west to east, map). Crete has 1,046.4 km long coastline, 155 km of which are sandy beaches. The most cosmopolitic are located on the north whereas the naturally purest ones (Elafonisi, Balos, Triopetra, Vai) on the south.
Heraklion (150,000 citizens) is the capital of the island, Chania (70,000 citizens with its extended surroundings) is the second
largest city and the x-capital as well, whereas Rethymnon (40,000 citizens) and Agios Nikolaos (10,000 citizens) are the next two bigger towns of the island. The old towns of Chania and Rethymnon exhibit fine examples of Venetian architecture and town planning. You can find many ancient remainings in the archaelogical museums of Heraklion, Chania and Rethymnon.
Crete's history dates back well over 4,000 years and it has been labeled ''the birthplace of civilization''. Sir Arthur Evans excavated the Minoan site of Knossos, a Bronze Age settlement circa 3000 BC. The Palace at Knossos is the finest surviving example of Minoan architecture. The Phaistos and the Gortys are more archaelogical sites worth seeing.
Crete is famous for its flora and fauna, too. The Samaria Gorge in the Chania district is the longest in Europe and many endangered species live there (Kri-Kri, Lammergeier).
Many great artists, writers and politicians were born in Crete and were inspired by its history and landscape. Nikos Kazantzakis, the author of Zorba the Greek and Domenikos Theotokopoulos, more commonly known as ''El Greco'', were Cretans. Moreover, Eleftherios Venizelos who was probably the most significant politician of modern Greece was born in Mournies near Chania, Crete.
Cretan tradition is hard to be found in the tourist resorts of the island. You have to travel on the small villages on the slopes of the White Mountains, Psiloritis and Dikte. Here people continue to live with their customs and the beliefs of the past so that they keep their traditions alive.