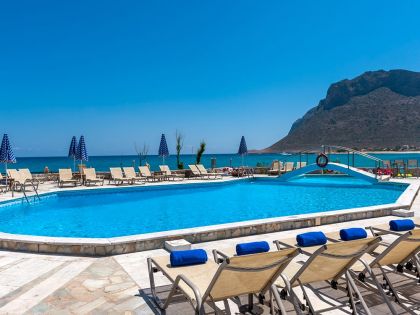 The Blue Beach Apartments offer a big swimming pool and they are surrounded by flourishing gardens full of flowers, shrubs and trees. A large taverna with indoor and outdoor seating is also offered. Theme, traditional nights and barbeque nights with Cretan music and dancing are organised here.
A marvellous, sandy beach with crystal waters lies in front of the apartments. The Zorbas mountain and the Akrotiri peninsula can be clearly seen - they wait for you to explore them.
Moreover, the guests can meet friends in reception and enjoy coffee or drink from the bar. A minimarket with only stock basic items is also available by 2010. Daily cleaning, change of bathroom towels every other day, and of the bed linen and pool towels every four days are provided. In the end, all the necessary things for cleaning the dishes are offered.