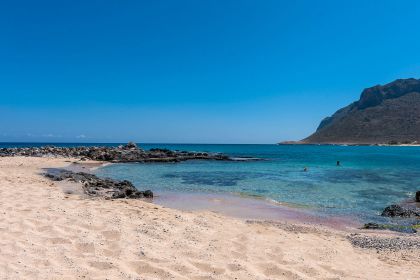 Stavros er en rolig, spredt, kystområdet lokalisert 17 km nordøst for Chania på veien til Kounoupidiana-Horafakia, på nord spissen av halvøya Akrotiri. Det er et ideelt sted hvis du ønsker å gjøre virkelig koble av og ha en avslappende ferie.
Det mest fantastiske innslaget i landsbyen er en fantastisk smal sandstrand dominert av en gigantisk steinhylle som ble brukt som bakgrunn i filmen Zorba the Greek". Stranden er omsluttet av den runde bukten hvor du kan nyte havet og solen.
De besøkende kan også finne en neolittisk grotte som ble brukt som et tilfluktssted fra slutten av bronsealderen perioden og gjennom alle de greske periodene, og inngangen kan bare sees fra stranden. Det er en annen sandstrand på vestsiden av sentrum, det er også brukt av de besøkende for bading.Stavros sentrum er bygget ved siden av stor sandstrand, og det er det rette stedet å spise middag eller drikke kaffe i en av de mange restaurantene, tavernaer og kafeer ved vannkanten. Her kan du også finne mini-markeder og snackbarer.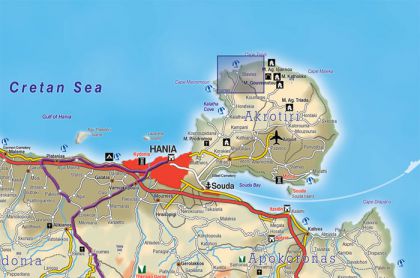 Ved siden av Stavros er det mange strender hvor du kan gå å bade. På den berømte Kalathas sandstranden (6 km sør) kan du unne deg selv med vindsurfings-utleie og instruksjons leksjoner, vannski, vannleker, kanoer eller dykking. Der finner du en restaurant som er bygd på sanden og et volleyball anlegg på stranden. Tersanas sandstranden (5 km sørvest) er et annet alternativ for bading og avslapning, og Marathi stranden (10 km sørøst) er annen sandstrand med strandbar og kafé.
Mens du bor i Stavros landsbyen bør du besøke noen av de store klostrene og kirkene på Akrotiri halvøya, Det Holly Mountain of Crete". De viktigste er Gouverneto (Lady of Angels) og Katholiko (Agios Ioannis the Hermit).Landsbyen ligger 25 minutter unna den internasjonale flyplassen i Chania og 35 minutter fra havnen i Souda. Transport forbinnelsen fra Chania by til landsbyen Stavros går hyppig(seks ganger per dag) . Selv om sandstranden kan være overfylt så er det et flott sted å besøke om det så er for noen få timer.
We would like to suggest you the next taverns and restaurants in the area of Akrotiri.
Sunset beach, a beachfront tavern on the sandy beach west of Stavros with Cretan food and French dishes served by Malika.
Sunset, a small tavern in Tersanas village with homemade Greek food by Mrs. Maria.
Almyriki, a new seafood restaurant near the centre of Stavros, in front of the sandy beach, with fish food and local dishes.
Mitsos, a small tavern in Kounoupidiana with Greek kitchen and grilled barbecue food.
Bahar, a lovely restaurant in Chorafakia with gourmet Mediterranean cuisine, pasta dishes, risotto and meat dishes.