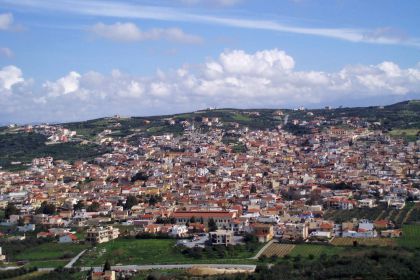 Archanes is a small village, placed about 10 km away from the town of Heraklion and 13 km away from the international airport. The picturesque village is built in an overgrown area, on the foot of mountain Giouchtas.
The village of Archanes has been built in the area of an important Minoan settlement. Archaeological excavations that have been going on until this day prove that during the Minoan Times the village was a prosperous Minoan City and the center of many other cities of the area.
Archanes village is a well-known upcoming tourist destination, where guests can discover its unique cultural heritage, its marvel beauty and taste authentic Cretan flavours. The area maintains its traditional architecture, however, thanks to its exemplary reformation, it received the European Award for Village Reformation. Plenty cafes, traditional taverns, souvenir shops and hotels, as well as supermarkets, bakeries and ATM banks are provided in the area in order to find anything you need during your stay in this magical place.
Many significant places such as the Cemetary in Fourni, placed at the northwest of the village, and the Mansion in Vathipetro, located about 4 km from the village, are worth visiting. All the important archaeological findings from the surrounding area of Archanes and the village itself are now in the Archaeological Museum, a restored building in the village. Furthermore, there are many restored neoclassical houses and sqares, as well as plenty churches and chapels, all of them worth visiting.