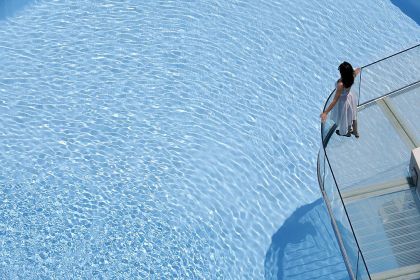 Leisure facilities of Galaxy Hotel include a large fresh-water swimming pool, pool bar and a fully-equipped wellness club with gym and spa.
With business facilities, such as WiFi internet access, dedicated business guestrooms with big work area and a fully-equipped business center, the Galaxy Hotel is the ideal place for corporate clientele. In addition, the hotel features spacious meeting rooms with natural light that can accommodate up to 650 people.
Pool Bar
The well awaited pool bar (expected to arrive in Summer 2009) is specially designed for casual comfort making it one of the most sought out places in the hotel. Light meals, casual dining and exotic cocktails are served.
Opening hours: 10.00 to 18.00
"Vetri" Restaurant
This magnificent restaurant filled with light coming through the glass windows -the inspiration for its name- viewing the water oasis of the hotel, invites you to a unique fine-dining experience. Our chef, drawing his inspiration from the gastronomical treasures that abound in Crete, adds a daring touch to traditional dishes, creating delicious flavors worthy of even the most demanding palate.
Opening hours: From 07.00 to 10.30 for breakfast and From 19.00 to 23.00 for dinner
"Per Se" Lounge
A superb lounge reflecting ambience and elegance. "Per Se" is the focal point of the hotel for guests and locals, a place to see and be seen. In a warm, congenial atmosphere, the bar offers premium brand spirits, local and international wines and inspired cocktails while you can also enjoy unique gourmet tastes, specially prepared by our chef. All of this is accompanied by music and, of course, warm and friendly service.
Opening hours: from 08.00 to 01.00 
Wellness Club
• Fully-equipped fitness area
• Hammam
•Treatment room
• Shower and changing rooms
Other Facilities
• Secretarial services available upon request
•Concierge Service
• Multilingual Staff
• Parking space available
• 24-hour room service
• 24-hour laundry and dry cleaning service
• Babysitting on demand
• Maid turndown service