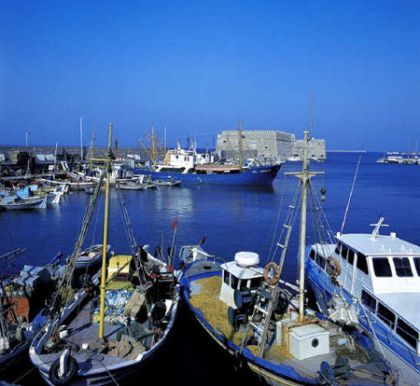 The city has a population of 120000 and is the fifth largest in Greece. Heraklion in ancient times served as a port of Knossos but it is only in the 9th century AD that it appears as a town founded by the Saracens.
Heraklion became the slave trade centre in the Mediterranean, to be soon after taken over by the Venetians who built immense fortification walls called it Kandax which was later paraphrased to become Candia.
During the four centuries of the Venetian occupation of Crete, many buildings were erected that are excellent examples of Venetian Architecture of that time, and many of them exist today. The Basilica di San Marco and the Loggia are two such specimens, while the Morozini fountain with its four lions has even given its name in the central spot of the town.
Heraklion is very privileged today, to have in its suburb list, famous names like Knossos, and the most prominent city of the Minoan era. Linked directly with Knossos, is the Iraklion Archaeological Museum housing most findings not only from Knossos but other Minoan Palaces like Phaestos in the south, Malia on the east and Zakros at the extreme east of Crete.