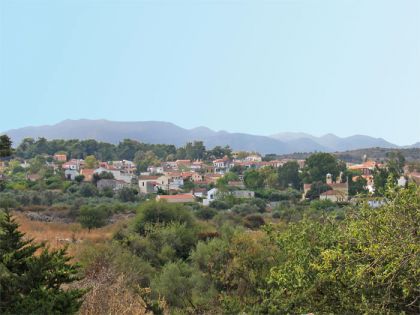 Vamos is the capital (administrative centre) of the Apokoronas district and it is located 26 km from Chania in north west Crete; it is a developing, traditional village well-hidden from the massive, mainstream tourism. Here there are some fine examples of traditional and neoclassical architecture in new and renovated buildings.
Vamos is a famous village because its people were among the first in Crete who tried to promote the traditional way of life as an alternative form of tourism. Here the visitors live in renovated or new (with traditional built form) villas, visit the lovely countryside and the sandy beaches, eat traditionally and relax in a way a little different from the resorts of mass tourism. This is in general terms the tourism which you can find in all the not-waterfront, small villages of Apokoronas.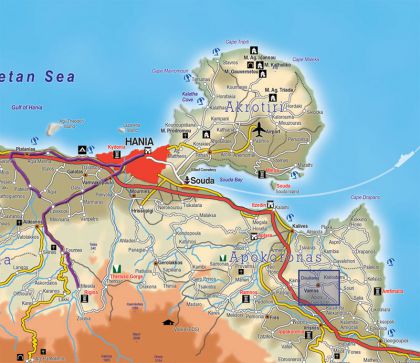 The Vamos village is an ideal place to relax, and enjoy the nature while staying with your partner or family. From here you can make everyday excursions to the sandy beaches of Almirida and Kalives (6-7 km). You can also walk in the surrounding nature, enjoying the rich flora and fauna under the blue sky and the hot sun.
There are several tavernas, restaurants and cafes in the center of Vamos where you can try traditional food or have a coffee (I Sterna tou Bloumosifi is suggested for its Cretan cuisine). If you want to go out during the night for a drink you should try Almirida, Kalives or the Chania old Town (about half an hour by car). In Vamos there is also post office, bank, the Greek Phone Company, police station, drugstore, a 24-hour health centre, and many small shops. Many foreigners choose Vamos and a few other small villages of Apokoronas to settle (especially during their retirement).