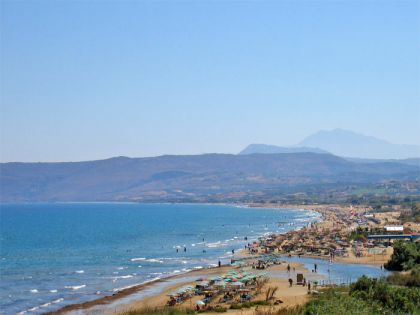 Georgioupolis is a big, waterfront village located 34 km east of Chania and 23 km west of Rethymnon. The wonderful, sandy beach and the lovely small river which crosses the village dominate the environment.
Georgioupolis is under development during the last two decades, however it remains very attractive with its long, sandy beach, the small fishing harbour, the river and the large eucalyptus trees along the streets which fan out from the main square.
The main beach is part of the endless beach stretching along the National Road Chania-Rethymnon for many km. It is very well organised with umbrellas, sun loungers, showers, cafes and a newly constructed seaside street. The need to preserve the wildlife along the beach led to the recognition of the waterfront beach area as an area belonging to the network 'Natura 2000'. There is a blue flag here, proving the clearness of the sea. A second beach (with colder waters) lies to the north of the river in a small bay.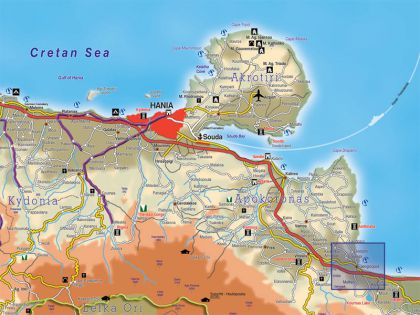 Georgioupolis is quite lively during the day since here there are many shops, cafes and restaurants on the main square and the waterfront. You can find ATMs, banks, post office and bookshop in the village as well.
The visitors can enjoy the clean sea and the sun, the traditional products, and the watersports (windsurfing). You can hire a pedalboat and canoe to go up the river where you can see turtles, fish, birds and ducks. There are a few bars in the small town. The Georgioupolis bar on the main square and the Edem Cocktail Bar and Restaurant with swimming pool on the beach are the best places to have drinks. Here there are also some fine beach bars along the long beach. Every Tuesday night live Cretan music shows are organised. The tavernas Poseidon, Fanis and Plateia offer great traditional and sea food.
There is very good connection by public transport with the village of Georgioupolis. They drop you on the main road, just a couple of minutes from the central square. It is a fine place to stay since it is located near the centre of Crete and it is easy to visit most of the sights of the island.