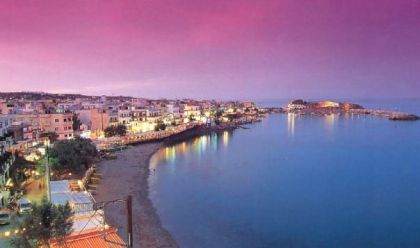 Hersonissos is situated 30 km east of Heraklion on the eastern side of Crete. It is a modern, comsmopolitan and popular destination for tourists all over Europe.
Spread over three villages it is relaxed by day and lively by night, with cafes, tavernas, pubs and clubs along the harbour and bars along the beach. Hersonissos offers something for couples, families and the young alike,
thriving nightlife, small sandy beaches, excellent shopping, sightseeing boat trips and the local golf course.
During the day Hersonissos port is a nice place to relax and watch the world go by. Fresh fish is landed daily and you can enjoy some great meals at many of the tavernas there. Glass-bottom boat trips are avaliable around the coastline of east Crete, or to Dia island. In mid-summer Hersonissos gets pretty lively in the centre but to get away from it all you can head up into the hills to enjoy panoramic sea views and eat in lovely rooftop restaurants.
Beach-lovers have a choice of three small sandy beaches which offer a variety of watersports. The Star Beach Waterpark offers exhilarating fun for families and the young at heart alike. The resorts long waterfront is lined with restaurants, cafes and tavernas, serving everything from late breakfasts to romantic alfresco dinners. Tucked amongst the old narrow streets that twist inland from the sea you can find typical Greek tavernas for traditional food. Back in town you can browse the shops for bargain leather goods. Hersonissos is a perfect resort for a fun-filled holiday.