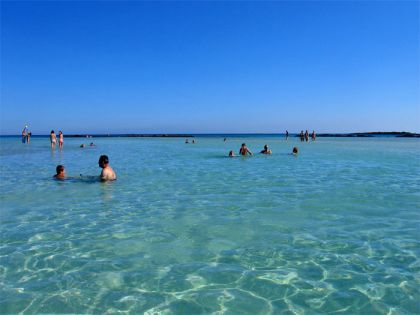 Elafonisi is located at a distance of about 80 km from the city of Chania. Elafonisi is called an excellent sandy beach with blue and green sea and colourful sandy beach. There is a small islet in front of the beach with the same name.
It is a peaceful place full of colors and light. You could go there on foot, as the distance from the land is less than 100 m. The white sand, the sandy hills and the various colors will compensate for your labour. There is also a small cafe on the beach with fast food and soft drinks.
The wider district of Elafonisi is of special enviromental interest and it is characterised as a "NATURA" area. Here can be found a few endangered spacies. For the moment two plans of "LIFE" are running.
Route : Chania - Kolymbari - Topolia - Elos - Chrissoskalitissa - Elafonisi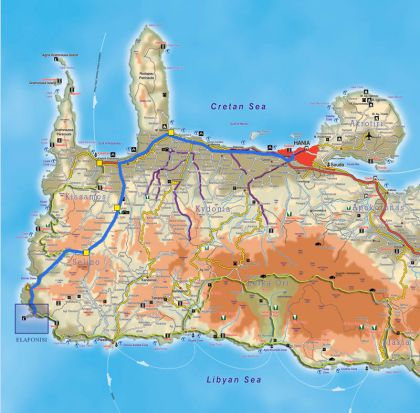 Our destination is one of the purest and the most natural beaches of Crete, Elafonisi, with blue and green waters and colourful sand. The visitors can either follow the New National road until Kastelli (then they have to turn) or make a stop in the seaside village of Kolymbari.
We start with a visit to Kolymbari (23 km west of Chania) and the Gonia Monastery which is located one kilometre to the north. After that, we enter again the New National Road, and move to the west. We cross the plain of Kissamos to reach the seaside town of Kastelli. It is located 42 km far from Chania (about 20 km from Kolymbari), a lovely small town with a long beach and a few cafes and tavernas.
We can either stop in Kastelli for a coffee or turn towards Elafonisi at the crossroads 4 km before the village of Kastelli.  We pass through the green, countryside villages of Topolia and Elos (with lovely tavernas) to reach and visit the Chrissoskalitissa monastery. A few km southeast of the Monastery there is the wonderful Elafonisi beach resort.